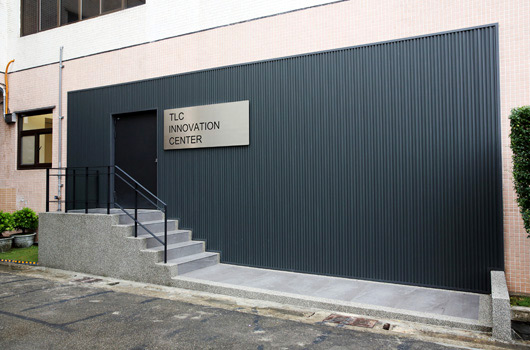 TLC Innovation Center
R&D Center
Description of Creativity Research Center

The TLC Innovation R&D Center has committed to the design and development of sustainable, innovative, and high performance textiles for long time. Our professional R&D team targets customer idea and needs to develop weaving, dyeing, functional finishing, and composite engineering.
---
We integrate world-class textile materials from worldwide brand partners in Europe, America, and Japan, and combine tailor-made functional textiles with high performance, environmental friendly and trendy elements to cope with customer needs. In addition to focusing on environmental friendly and functional innovation, building up virtual design to integrate the actual prototyping, internal and external collaborative, using the latest digital simulation fabric design, all of these not only can help customers to shorten the leadtime of end use product launching to the market, but also reduce the waste during the development process.

In terms of material applications, the Innovation R&D Center takes responsibility to protect the environment and ecology balance. The priority is sustainable material development, and then innovate artificial functional materials. Examples include recycling waste into yarn and textile, as well as adopting environmental friendly process to develop composite materials, and others functional materials. We emphasis on functional yet eco-friendly; such as waterproof and breathable, moisture wicking, odor controlling, body temperature management, antibacterial, abrasion resistance, soft, high elasticity, etc., to provide a healthy, comfortable and safe textiles and materials.

The Innovation Research and Development Center has three development guidelines:
Textile R&D
1. Nanomaterials technique applies to functional textiles: Natural fibers, nano-scale infrared rays, negative ions, durable, water repellent, etc.
2. Personal safe and protective fabric: Electromagnetic shielding fiber, ultraviolet protective fabric, high abrasion resistant material, reflective material.
3. Personal healthcare fabric: Anti-mold and antibacterial, silver fiber (X--static®, X- T2®) series.
4. Environmental sustainability series: Organic cotton, recycled PET fabric, recycled fabric, etc.
5. Comfort series: Moisture wicking fabric, cooling fabric, anti-static fabric.
6. Value-added series: Engineering jacquard fabric, anti-abrasion, PU coated leather, etc.
Chemical Process Research and Development
1. Waterproof and moisture vapor permeability textiles.
2. Waterproof combines with thermal insulation.
3. Body temperature controlling materials: Composite material applied to ready-made clothes, shoe materials, bedding, suits, safety helmets, car seat cushions, printed labels, etc.
4. Working and protective materials: Such as police and military uniforms, industrial workwear uniforms, etc.
5. Material bonding development: Smart device case lining material, bonded mesh, synthetic leather composite fabric and flame retardant composite material, medical material.
6. Special Function Process: Dynamic wicking resistance and water repellent, oil repellent and easy care product development.
Coating and Laminating
1. Water-base adhesive lamination process: The use of environmental friendly and water-base adhesive lamination, which including foam, neoprene and other materials to combine various kind of functional textile.
2. Functional coating: Far-infrared functional coating, negative ion functional coating, electromagnetic shielding functional coating, nano carbon coating, abrasion resistant coating, one way transferring, etc.
3. Coloring coating on natural woven canvas: Environmental friendly and water-base coloring coating, metallic coloring coating on woven canvas.
4. Popular coating on man-made woven canvas: Environmental friendly and water-base waxy coating on canvas textile to create trendy or matt fabric look.
5. Eco-friendly leather split lamination: It is used water-base lamination with rubber skin or PU film to combine with leather split to create durable PU coated leather.
The innovation team overcame the most challenging mission, designed team jersey for 2018 FIFA World Cup, which adopted the technology of "Engineering Jacquard with Body Mapping".
Different from the other textile suppliers offered printing and moist-wicking textile, Tiong Liong provides more creative, functional yet fashionable option for PUMA®.

The project began in May 2016. To organize the whole project, we stared from collecting team jersey history of the other teams to analyze competitors' manufacturing and innovation ability. Meanwhile, it involved expertise to brainstorming back and forth between departments, and finally we decided to adopt the technology of "Engineering Jacquard and Body Mapping" to produce textile for the use of PUMA® team jersey. The technique of Engineering Jacquard and Body Mapping makes football team jersey with high performance and trendy look. This unique jersey successfully stood out from the other competitors, and made Tiong Liong to be recognized all over the world.