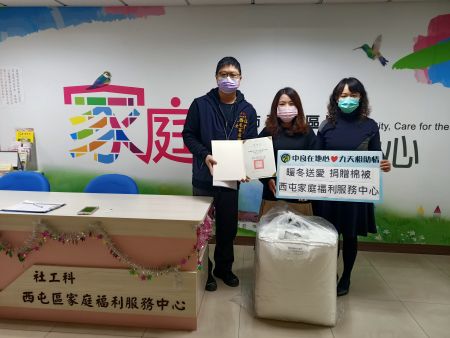 Mr. Cui, Director of Xitun Family Welfare Service Center(Left) and Miss Chen, Director of Social Affair Bureau, Taichung Citi Government(Right)
Tiong Liong Corp and Jiu Tian Foundation Donated Mattresses to Taichung City Government
08 Jan, 2021
Taichung, Jan. 8 - The cold wave wave hit Taiwan with frigid temperature this week. Tiong Liong Jiu Tian Educational Foundation and Tiong Liong Corporation donated 40 insulation mattresses to the disadvantaged. They associated with Social Affairs Bureau, Taichung City Government. There are total 14 Family Welfare Service Centers that covers 29 Taichung Districts.
Tiong Liong Corporation has over 40-year experience in performance fabrics including insulation and temperature management. The 40 mattresses were made with extraordinary CLO index. Tiong Liong Jiu Tian Educational Foundation donated them to 14 Family Welfare Service Center, then the community volunteers distributed to the disadvantaged individuals and families. It is like the relay race, everyone one in the donation project is way important.

Miss Chen, Director of Social Affair Bureau, Taichung Citi Government thanked Tiong Liong Jiu Tian Educational Foundation. She also thanked TLC made the temperature management mattresses to those in need. Recently, the cold waves continually stroke, and the community volunteers responded the needs from many cases and families. This is the iconic example that government, corporation and foundation work together to help the disadvantages.
Related Products

3M™ Thinsulate™ Insulation has remarkable Melt Blown Technology, which utilizes a special manufacturing process to mix thick and short fiber...

Details